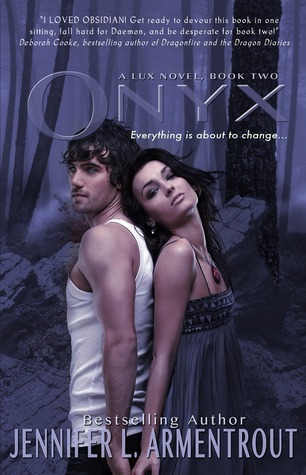 Onyx
Lux #2
Description: Being connected to Daemon Black sucks…
Thanks to his alien mojo, Daemon's determined to prove what he feels for me is more than a product of our bizarro connection. So I've sworn him off, even though he's running more hot than cold these days. But we've got bigger problems.
Something worse than the Arum has come to town…
The Department of Defense are here. If they ever find out what Daemon can do and that we're linked, I'm a goner. So is he. And there's this new boy in school who's got a secret of his own. He knows what's happened to me and he can help, but to do so, I have to lie to Daemon and stay away from him. Like that's possible. Against all common sense, I'm falling for Daemon. Hard.
But then everything changes…
I've seen someone who shouldn't be alive. And I have to tell Daemon, even though I know he's never going to stop searching until he gets the truth. What happened to his brother? Who betrayed him? And what does the DOD want from them—from me?
No one is who they seem. And not everyone will survive the lies…
"I always liked you. From the moment you first flipped me off."
My thoughts (Theo): I have had been in love with this series for a while thanks to one of my closest friends. She recommended me the book and I absolutely went for the Lux Series! What can I say; I absolutely did NOT make any kind of mistake since this is waaaaaay too good to be true!
Alright, let's talk first about characters:
Katy is a blogger like almost everyone around here, blogging about books and interesting stuff, making video-reviews and always getting tons of signed books from some huge and awesome authors *wish that would apply to me*. She just moved from California with her mom, to this sweet, almost deserted little town.
She is getting used to the surroundings and especially to the rude-hot-awesome-super-hot-neighbor: Daemon Black! As we recall from the first book he is a Luxen, an alien from outer space, living in our world, being under the power of the government.
"Cookie?" he offered, holding a cookie full of chocolate chips.
Upset tummy or not, there was no way I could refuse that. "Sure."
His lips tipped up one side and he leaned toward me, his mouth inches from mine. "Come and get it."
Come and get…? Daemon placed half the cookie between those full, totally kissable lips.
Oh, holy alien babies everywhere…"
Dee is the super-hot-awesome-sister of Daemon. She is nice, lovely and the new BFF of Katy.
Everything seem to be absolutely magnificent, after all the healing and mutating thing from the book one, we almost expect the characters to live happily ever after due to the awesomeness of Daemon.
"Kitten," he growled roughly.I kissed him softly, sliding my hands into his silky locks, letting the pieces slide through my fingers. I tasted in him my own rising desire, my own need and heartache. Thrilling. Frightening. I pulled back."Kitten," he said again, voice strained. "You don't get to do that and then stop. That's not how it works."I stared at him, my breath stalling in my lungs."Not when you're mine." Daemon backed us up and slid down the wall, pulling me on his lap so I was straddling him. "And you're mine."
But it is nothing like it! Everything just simply SUCKS to put it mildly when everything you do just keep getting back like some sort of a KARMA B*TCH playing pranks on you! This new guy shows up – Blake – messing everything up, right along the new-shiny boyfriend of Katy's mom and a ton of problems just seem to make their way through their somehow happy-life!
"Say it."
"Say what?"
"Tell me what you told me earlier."
"I love you."
"That's all I ever need to hear."
"Those three words?"
"Always those three words."
Daemon keeps getting bitchier & bitchier about everything, letting everything go to a point where he confesses everything. His kitten finally becomes his and everything makes even more of a tragedy when you just keep reading the deadly ending! It made me scream, curse, even cry – but everything been paid for! Somehow!
I felt sad for Dee, really pitied her, really making excuses for her. I loved Daemon even more and I made a mentally note to find myself a Kitten.
"If there is anything, there is us.
You and me. No one else."
I recommend this book to you, to everyone around you, to every single breathing creature! This book is not all about the looks, is all about life and mistakes we dare to make without thinking about all the consequences, about all those plain reasons that made a big WHAT THE.. In the end.
It's by far something thrilling, over-extremely-awesome and pure bliss to anyone who is being part of the blogging teams. You will get it! This book will get you! Everything will make you scream with pleasure and sometimes even show your numbness by throwing the pillow at some invisible Blake or even other nasty characters.
I would like to thank the author for writing this awesome book and show my appreciation to everyone who read this book!
I absolutely consider this book a 5 star without any doubt!
Happy reading everyone~!